Oplevelser på Klitta
En tur med Klitta er en ganske særlig spejderoplevelse, som I ikke skal snyde jer selv for!

Klitta sejler både aften-, weekend- og ugeture, lige hvad I har lyst til og mulighederne ombord er mange.

I kan tage på en fortjent hyggetur på Århusbugten eller hvad med en weekend med særlig fokus på navigation? Få styr på hvilke informationer man kan hente i søkortet, naviger med GPS eller på gammeldags manér med krydspejling og dybdemålinger eller prøv natsejlads. Sæt fokus på samarbejde og ledelse eller brug Klitta som mødelokale. Klittas besætning vil gerne være med til at skræddersy et forløb efter jeres behov.

Når du som spejder sejler med Klitta har vi altid vores skipper og bedstemand med og de lærer fra sig og har ansvaret ombord. Så det er ikke nødvendigt at have sejlerfaring.
Hvad kan vi "nå" på en sejlads?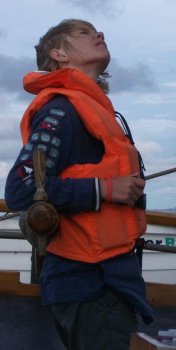 AFTENTUR (ca. kl. 17 til 21.30). På den tur kan i få en lille fornemmelse for at sejle med sejl og navigere. Ofte er man lidt forvirret over alt det tovværk, men overvej at tage to aftner og nyd aha oplevelsen, når man gennemskuer logikken. Medbring aftensmad eller lav gourmet mad i vores kabys!

WEEKENDTUR - eksempel (Fredag kl. 17.00 til søndag kl. 16.00l) Vi elsker at sejle til Tunø - men også Hov, Endelave, Samsø, Ebeltoft, Nappedam, Skødshoved m.v. Fredag aften sejler vi en lille tur. Lørdag morgen sejler vi så et længere stræk enten rolig og afslappende - eller for de friske - "sejladstræning" med maser af navigation og vendinger for sejl. Er du sejlinteresseret kan du på denne sejlads få en fornemmelse for sejlsætning, at styre med roret samt lidt grundlæggende navigation.

UGETUR - (lørdag kl. 15.00 til lørdag kl. 12.00l) På disse ture kan vi sejle til Anholt, Læsø eller måske rund om Fyn. Ugeturene kan kombineres med medlemmernes sommertogter så en ugeudlejning indgår i en længere tur til fx. Sverige eller Tyskland. På disse ture kan i få en del instruktion om sejlads og få god fornemmelse for sejlsætning, stå ved ror for sejl og for motor, det at holde en kurs, samt noget grundlægende navigation.
Hvorfra, og hvortil kan vi sejle med Klitta ?
Påmønstring og afmønstring sker normalt altid ved vores plads i Træskibshavnen i Århus, Fiskerivej 32, 8000 Århus C. Ved særlige sejladser som sommertogter, Limfjorden Rundt eller lignende kan påmønstring og afmønstring ske i andre havne ligesom weekendture kan indgå som en del af sejladsen mod fx Limfjorden. Absolut sjovest er at sejle til nye havne uden at skulle tilbage til samme udgangshavn, men det øger bare vores transportudgifter på land!
Hvad kan vi opleve på Klitta?
Skipper og bedstemand instruerer jer i at sejle skibet - sætte sejl, navigere og stå ved ror ! Skipper har ansvaret og tager ALLE afgørende beslutninger for turen.
At sejle med træskib giver en helt speciel stemning ombord. Måske er man er ude efter det store sug og vil for alvor prøver kræfter med naturen, vinden og bølgerne. Måske er man mere til det mere idylliske med hygge på agterdækket med kaffe og guitar på agterdækket. Om aftenen i havn eller med ankeret i er der plads til badning, spil, sang, musik, god mad, historiefortællinger eller hvad man nu har af idéer til sjov og ballade!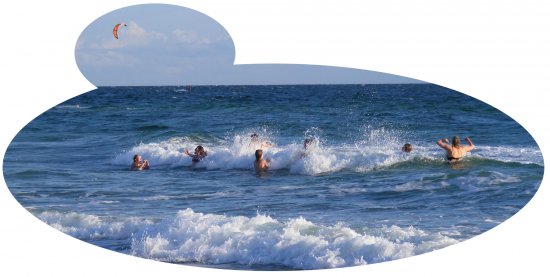 Vi er selvsagt meget afhængige af vejret. Har man ikke har sejlet før, finder vi roligt farvand eller vi tager en dag i havnen hvis det blæser for meget! Om bord på Klitta har man god mulighed for at afprøve sine evner til samarbejde og koordinering af dagligdagen - vi bor tæt på skibet!